Missing Tracks
These tracks are known about but there are no track files at all. Some we have images
for and some we have no images and only text details.
If you have any of these tracks then email me/email RVZT/post details on one of the forums via RVZT.
Thx to KFP for informing me of some missing tracks listed below that were not on XTG
Here is the updated missing tracks list updated by KFP.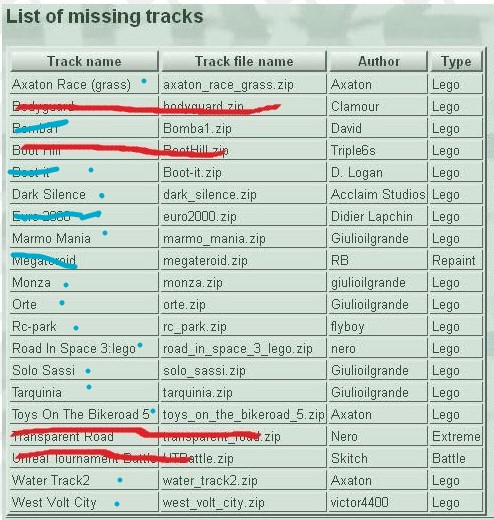 The above are listed on RVZT (The ones with a red line through them I had and I have informed RVZT who has downloaded them from my website.
The tracks listed below I found images for them on an old website, http://revolt77.homestead.com/ The author of the website and tracks( I assume ) is wow777333
Crossroads
Hershey
Polka Dots
Multicolor
Road Trip
1059k
949k
856k
1.31mb
Larger pic
Larger pic
Larger pic
Download
Larger pic
Crossroads is a
different track to the
one(s) with a
similar/identical
name.
I have all of the files for Multicolor but one of them is damaged and so the track archive is incomplete.
I have now recreated
the gfx for this track.
i don`t think I got the
tunnel right tho.
Download
This image was found on ReVolt Racing
(by Olivers) Link
The below image is
used for an Update
Trackman by Manu
Bamboo Valley
Toys in the Street Night
Road in Space 3 Lego
Heavy Trafic
Not 100% sure of track
name as the above pic
is from the Jungle
Startup zip file
Pic 1 Pic 2
by Nero
The track in the above pic for Heavy Traffic is not from the track. I have not idea which track it came from. The tracks released at that time do not have any part that looks like this.
Video
by Dennis12
Strixs Warehouse
Tubeway. This is mentioned in the readme file for a track by Mixermaster. Approx date of track 3/12/2011